Welcome

November

It's mid-autumn and the holidays are on the way (Thanksgiving!). Enjoy some cool breezes and review our articles on "COLAs," pacemakers, and more.

Get in Touch

Felice Johnson

If I can help you with any insurance needs, please call 412-726-6450 or send an email to felice.johnson@successfs.com to get started.
Social Security Going Up, But Less Than Before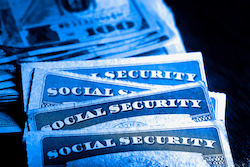 Your Social Security payments will rise - although not dramatically - in 2024.
It was announced that than 71 million Americans will receive a 3.2% increase in their Social Security benefits and Supplemental Security Income (SSI) payments in 2024.
On average, Social Security retirement benefits will increase by more than $50 per month starting in January (Social Security Administration).
The 3.2% increase in Social Security is down from 8.7 % the previous year (which came in the wake of the COVID pandemic).
`
The 2023 COLA (cost of living adjustment) was the largest since 1981. (USA Today).
Americans will consume 3,000 - 4,500 calories on average at their Thanksgiving celebrations, says the Calorie Control Council.
Remember, it's a healthy idea to control portion sizes. Thanksgiving favorites like turkey, mashed potatoes and pie can be delicious but are usually high in calories.
Remember, Medicare's Annual Election Period (AEP) for 2024 Medicare coverage remains in force until December 7. During this period, you can still (Boomer Benefits):
Switch from Original Medicare to a Medicare Advantage plan

Switch from Medicare Advantage to Original Medicare

Switch from one Medicare Advantage plan to another

Enroll in a Medicare Part D Prescription Drug Plan.

Switch from one Part D plan to another.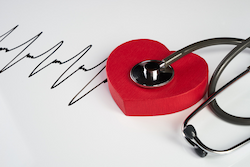 Pacemakers are devices that can be placed in your body, usually by surgery, to support the electrical system in your heart. It can help prevent the heart from beating too slowly (Mayo Clinic).
Usually, implantation of a pacemaker does not change the recipient's activities or lifestyle. While most people who receive pacemakers are aged 60 years or older, people of any age, even children, may need pacemakers (Circulation).
A pacemaker helps control abnormal heart rhythms. It uses electrical pulses to prompt the heart to beat at a normal rate. It can speed up a slow heart rhythm, control a fast heart rhythm, and coordinate the chambers of the heart (Medline Plus).
Today, Many devices operate as dual pacemakers/defibrillators in a single unit. A defibrillator can help restore a normal heartbeat.
The pacemaker is a small, battery-powered device. You need surgery to get a pacemaker. The device is placed under the skin near the collarbone. A pacemaker is also called a cardiac pacing device.
The pacemaker generator is implanted in a small pocket made under the skin. The "leads" are usually placed in a vein near the collarbone (National Institutes of Health). A pacemaker may not need to be replaced for 10-12 years.
`
Up to three million Americans live with pacemakers (Yale Medicine).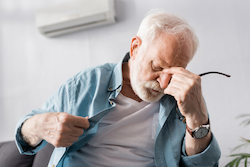 There are times when we all feel "tired" or "fatigued."
Sometimes that's a warning of a chronic condition.
Conditions that can contribute to fatigue in older adults include diabetes, heart disease, and more (National Institutes of Health). If you suspect any of the above, you should contact your doctor.
If don't have an underlying condition, but "lack energy," there are things you can do to put some spring in your step, consider the following (Home Helpers):
Stay mentally active. It will keep you sharp and help with mental health.

Don't smoke.

Eat foods high in protein.

Get lots of sleep.

Do things that are meaningful activities.

Manage stress.
Senior Financial Glossary
Valuable Papers Insurance. This is a special type of property-casualty insurance. Valuable papers insurance reimburses the policyholder for the monetary value of any valuable papers (wills, for instance).
What Is a Validation Code? A Validation Code is a series of three or four numbers located on the front or back of a credit card. It's used for security purposes.
VA Loans. Acquired through the Department of Veterans Affairs, members, and their surviving spouses can purchase homes with little or no down payment.
A Variable Annuity is an annuity that varies based on the performance of an underlying portfolio of "sub accounts."
SOURCE: Investopedia
Quick Tuscan Farro Soup with Beans and Kale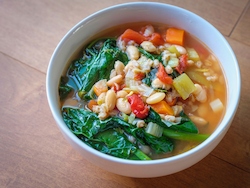 This hearty and satisfying vegetarian soup comes together quickly on chilly fall days.
INGREDIENTS:
2 tbsp extra virgin olive oil,

1 onion, chopped,

2 cloves of garlic, minced,

2 carrots - diced,

1 celery stalk, diced,

2 medium potatoes, chopped,

1 15-oz can cannellini beans, rinsed,

1 cup quick cook farro,

15 oz can tomato sauce 4-5 cups vegetable broth

1 cup kale, chopped, thick stalks removed,

3 tbsp chopped parsley, salt and pepper to taste
DIRECTIONS:
Heat olive oil in a large pot over medium heat. Add the chopped onion. Cook for 3-5 min, until the onion is tender and translucent. Add minced garlic. Saute for a minute. Add the chopped carrot, celery, potatoes, tomato sauce, farro, and vegetable broth. Bring to a boil. Reduce the heat to a gentle simmer and cook for 8-10 min. Add the kale and cannellini beans and cook on low heat for another 5-8 min, until the greens are tender. If the soup is too thick, add more broth or a bit of water. Adjust salt and pepper to taste. Remove from the heat, add the chopped parsley, mix well and serve hot.
SOURCE: Gathering Dreams
Did you know this about November?
November 3, 1948 - an inaccurate "Dewey Defeats Truman" banner headline appeared on the front page of the Chicago Tribune.
November 6, 1429 - Henry VI was crowned King of England at age eight.
November 19, 1863 - President Abraham Lincoln delivered the Gettysburg Address.
November 22, 1718 - "Blackbeard the Pirate" (Edward Teach) was killed.
Famous Birthdays: Daniel Boone (November 2), Kris Jenner (5), Leonardo DiCaprio (11), Scarlett Johansson (22)
SOURCE: Famous Birthdays
"Do what you can, with what you have, where you are."
- Theodore Roosevelt


Copyright © American Senior Benefits 2023